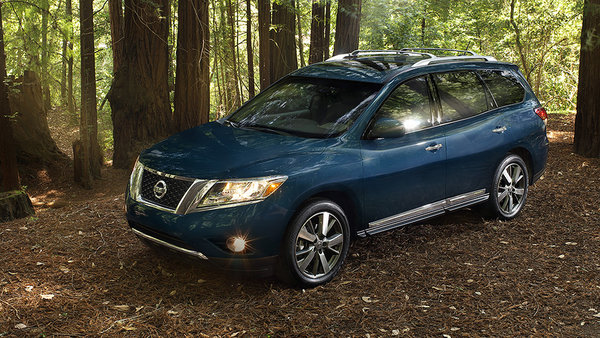 The Nissan Pathfinder was completely redesigned a few years ago, but it still looks good from a wide range of angles. When you step inside, you feel like Nissan's midsize SUV was redesigned just a few days ago, which is how modern and pristine everything looks. There are very few flaws to be found, especially if you are in the market for a sport utility vehicle that can seat seven in total comfort and be fuel-efficient and powerful.
The 2015 Nissan Pathfinder is Full of Amenities
Starting at just a smidge over $30 000, the 2015 Nissan Pathfinder comes standard with front-wheel drive while all-wheel drive is optional. In terms of features, the list goes on and on. Heated and cooled seats, three-zone climate control, leather seats, panoramic sunroof, heated second row seats, satellite radio, navigation, 360-degree rearview camera that makes parking a breeze, and quite a bit more goodies.
Under the hood, buyers get a 3.5-liter V6 engine that delivers 260 horsepower and 240 lb-ft of torque. Coupled to a continuously variable automatic transmission (CVT), the engine proves remarkably good on fuel even if there is quite a bit of power under the hood and a large and spacious interior to carry around. Still, the Pathfinder can take off at a red light with confidence, and pass other vehicles quickly and without hesitating. There is always power on tap should you need it.
That said, what is the most impressive about the 2015 Pathfinder is just how balanced it is. We are talking about a very, very comfortable midsize SUV here that is spacious inside and capable of transporting two adults and five kids in total tranquility. The seats are a pleasure, even after a few long hours on the road, and there is ample head, leg, and elbow room.
Spacious and Comfortable
Behind the third row of seats, 453 liters are available. That's impressive considering that most three-row SUVs don't allow for much baggage room once all the seats are taken. That's not the case with the Pathfinder. If you should fold the third row, you get the kind of cargo space that can fit just about everything. And should you put the second row down, you can help your friends move!
But even with all of that, it still has a sporty edge to it that makes sharp turns seem like sweeping curves. Never out of sorts, the 2015 Pathfinder glides on the road, regardless of what's under the wheels, and always seems in control even when you push it a little harder.
To learn more about the 2015 Nissan Pathfinder, contact us today at Stadium Nissan!
Gallery