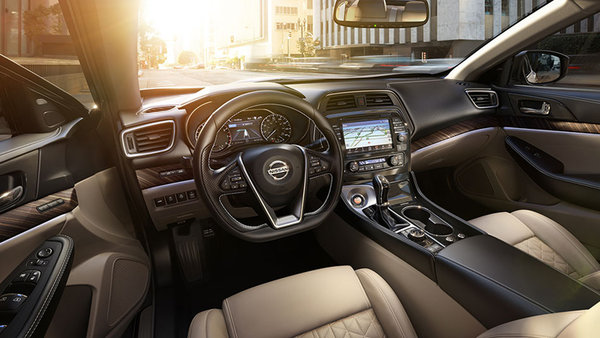 The 2016 Nissan Maxima yet again received praise from the automotive media community as its interior was named to WardAuto's top 10 best interior list.
The Maxima joins some pretty exclusive company that includes the Audi TTS, the BMW 7 Series and the Cadillac XT5.
Every year, WardsAuto reviews new vehicle interiors and ranks every one of them on a host of criteria including fit and finish, the quality of the materials, ergonomics, space, and comfort, to name a few. This year, there were 47 new interiors in contention for the prestigious list.
"This interior makes a brilliant first impression," said WardsAuto Senior Editor Tom Murphy. "The Maxima exhibits expert craftsmanship and reminds us once again why it serves as Nissan's flagship. We love the black-and-camel colour scheme, two-tone flat-bottom steering wheel,'Liquid Chrome' metallic trim and Alcantara diamond-quilted seating surfaces. Nissan took some chances with the Maxima interior, but the rewards are evident."
"WardsAuto editors have said that the line continues to blur between luxury and mainstream brands in terms of premium materials, connectivity, driver-assistance and infotainment systems – and the new Maxima certainly fits that positioning," said Michael Bunce, vice president, Product Planning, Nissan North America, Inc.
To learn more about the 2016 Nissan Maxima, contact us today at Stadium Nissan!