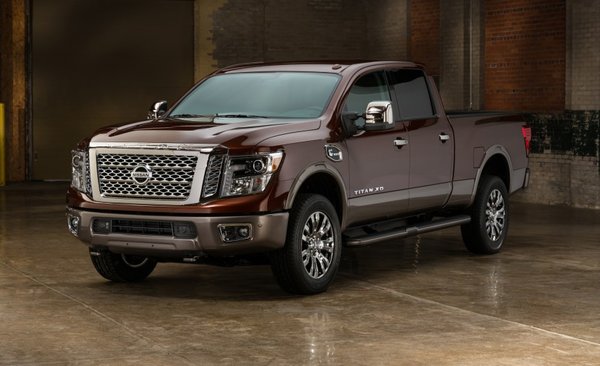 The pickup world collectively took notice this year as Nissan re-launched a revamped and re-engineered version of its full-size truck: the Titan.
This newly reworked workhorse is ready to take on the best of the best from the likes of the Americans, and really anyone else that stands in its way. Large and very much in charge, the 2016 Nissan Titan XD is a fabulous pickup truck that's sure to satisfy any truck buyer's needs.
Business, Meet Pleasure
There's no denying that Nissan engineered the brand-new 2016 Nissan Titan XD to do some heavy lifting, but it's also a smooth enough ride to serve as your everyday drive.
At first glance, you'll notice that Nissan spared no expense when revamping the front fascia design, pumping it full of brash masculinity and in-your-face attitude. Bold and large, the 2016 Titan XD makes a serious statement on the road. And if you thought the truck's attitude and design were the only large things about it, you'd be wrong. From nose to tail, the Titan XD measures roughly 20 feet. It really is that large, which only adds to its impressive stature on the road.
It's not just large in size and road presence. No, the 2016 Nissan Titan XD is also big in the capabilities and functionalities departments. If properly equipped, this pickup has a maximum towing capacity of 12,000lbs and a max payload of 2,000lbs.
There are two engines to choose from for the 2016 Nissan Titan XD. The powerful 5.0L V8 turbo diesel engine that offers up 310 horsepower and 555 lb-ft of torque is a viable option for sure. However, there is also a 5.6L Endurance V8 gas engine that produces 390 horsepower and 401 lb-ft of torque. Notably, the V8 engine ups the payload to 2,500lbs.
If you select the diesel option, you'll find it coupled with a 6-speed Aisin automatic transmission. If it's the V8 engine you prefer, then you'll get Nissan's 7-speed automatic transmission. Front-wheel drive is available, though the Titan XD can also be outfitted with a PRO-4X package that boosts capability with all four wheels working for you.
A True Workhorse
Instead of loading up the cabin of the 2016 Nissan Titan XD with gobs of technological bits and bobs along with creature comforts, the Japanese manufacturer chose instead to focus on what really matters when it comes to pickups: capacity and capability numbers. It's for this reason that the Titan XD is a true workhorse, built and bread to get the job done.
To find out more about the all-new 2016 Nissan Titan XD truck, head down to your local Stadium Nissan dealer today to speak to one of our experts. And don't forget to book a test drive, too.
Gallery