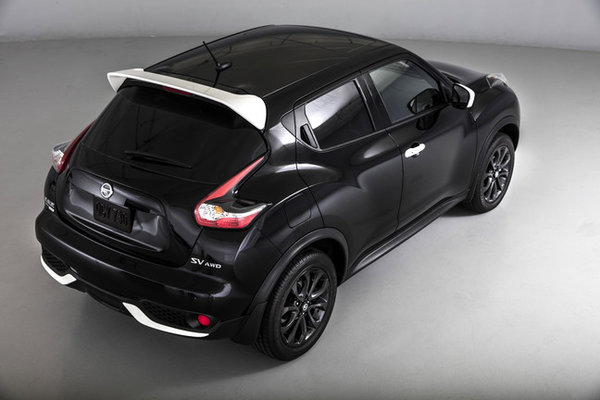 The Nissan Juke was one of the most unique vehicles to hit the market when it made its debut in Canada a few years ago, and despite the passage of time nothing has really changed. The 2017 Nissan Juke still proudly presents its unique lines, its spacious and versatile interior, its dynamic driving characteristics, and its powerful and fuel-efficient turbo engine.
Driving pleasure is at the heart of the 2017 Nissan Juke
The 2017 Nissan Juke is both a fun and versatile SUV, and its turbo engine is a unique blend of power and fuel economy. Powered by a 1.6-liter four-cylinder engine producing 188 horsepower and 177 pound-feet of torque, the 2017 Nissan Juke reaches 100 km/h in less than 8.0 seconds, which is rare for a vehicle in this category.
Despite this performance, the Juke is also very fuel-efficient with an average fuel consumption rating of only 8.8 liters per 100 kilometers in the city and 7.5 liters per 100 kilometers on the highway when equipped with all-wheel drive. That's certainly quite impressive for an SUV that is so powerful.
If you opt for the FWD entry-level model which starts around $ 20,000, fuel efficiency is even more impressive.
And if we want even more power, there is the much more aggressive Nismo RS version which takes the same engine and ups the power to 211 horsepower. With the Nismo RS version, it is possible to reach 100 km/h in less than 7.0 seconds.
A spacious interior and sporty handling in the 2017 Nissan Juke
Very few SUVs are as fun to drive as the Nissan Juke. On the road, it behaves essentially like a car with precise steering and direct handling. That said, its utilitarian vocation is evident as soon as you open the doors.
The Nissan Juke's trunk can accommodate up to 1,017 liters with the rear seats down, and the entry-level Nissan utility vehicle is also welcoming for both front and rear passengers.
To learn more about the new 2017 Nissan Juke, contact us today at Stadium Nissan!
Gallery