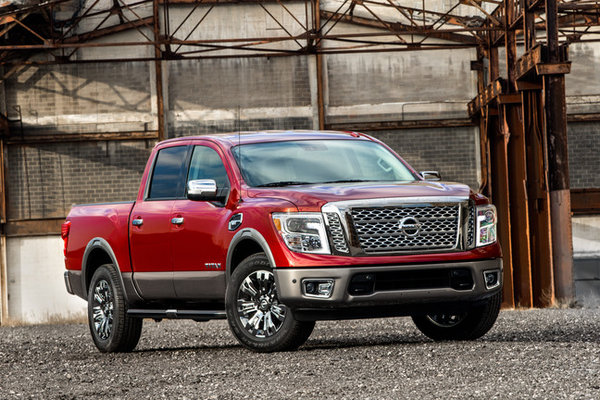 Entirely redesigned and presented at the 2015 Detroit International Auto Show, the Nissan Titan has since expanded to include two variants, the base Titan model and the XD version. In both cases, the buyer gets a full-size pickup truck able to tackle any work you give it with its powerful engines, but we also gets a truck that stands out in terms of comfort and refinement.
In other words, the new 2017 Nissan Titan may be the perfect solution if you're looking for a truck that can get the job done when needed, but that can also be luxurious when you're out on the highway with the family.
Two engines are available in the 2017 Nissan Titan lineup
As previously indicated, the 2017 Nissan Titan is offered in two versions with the XD sitting at the top of the lineup. While the entry-level model is available starting at $ 35,498, the XD is available starting at $ 37,250. The 2017 Nissan Titan is powered from the start by a 5.6-liter V8 engine producing 390 horsepower and 394 lb-ft of torque available at just 3,400 rpm.
This engine is also available in the Nissan Titan XD, but the latter also offers an optional and powerful Cummins 5.0-liter turbodiesel V8 engine that develops 310 horsepower and 555 lb-ft of torque.
While the first V8 engine is capable of towing up to 9,770 pounds or 4,330 kilos, the Nissan Titan XD and its Cummins engine can pull up to 12,350 pounds or 5,606 kilos. What's really impressive about the Nissan Titan XD is that it offers that kind of capability at a much cheaper price than most of its rivals. In addition, the V8 turbodiesel engine has a 20 percent lower average fuel consumption rating compared to the V8 gas engine.
Top-of-the-range features in the 2017 Nissan Titan
As we said at the beginning, the 2017 Nissan Titan is not only able to get the job done, it is also luxurious and refined. There are several versions of the Titan available to truck buyers, and without going into a detailed description of each know that each model offered in the Titan lineup features a lot of equipment.
Indeed, you will find in different versions of Titan equipment such as air conditioning, a navigation system, heated and ventilated leather seats, heated leather steering wheel, rear-view camera with front and rear parking assistance, a smart key with push-button start and more.
To learn more about the new 2017 Nissan Titan, contact us today at Stadium Nissan!
Gallery