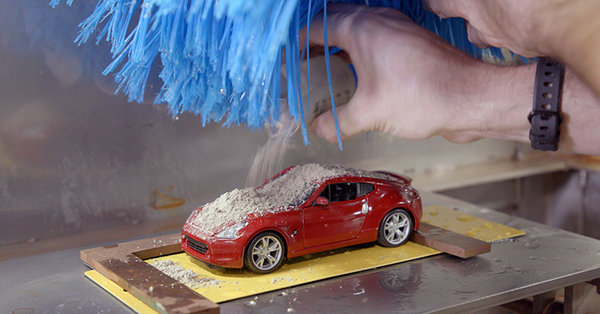 At Nissan's Farmington Hills technical center in Michigan, you will find the world's smallest car wash. About the size of a popcorn machine and certainly quite cute, Nissan's scaled-down car wash nevertheless has big implications. Its main objective is to see how a vehicle's paint can hold up to a full-size car wash.
A miniature car wash that ensures Nissan paint quality
Those car washes can scratch dirt and damage paint, and part of going the extra mile to ensure quality is checking how Nissan paint can hold up to the rigors of the modern car wash. That means applying what Nissan calls Arizona test dirt to a miniature car's paint, and then running it through the mini car wash.
Its brush spins at about 180 rpm, which means that the bristles sharply slap the paint while the dirt is sprayed on using water jets. The whole idea behind the miniature car wash is to allow Nissan engineers to improve the quality of the paint that is applied to new vehicles, and thus go one step beyond what you traditionally expect in terms of durability and quality.