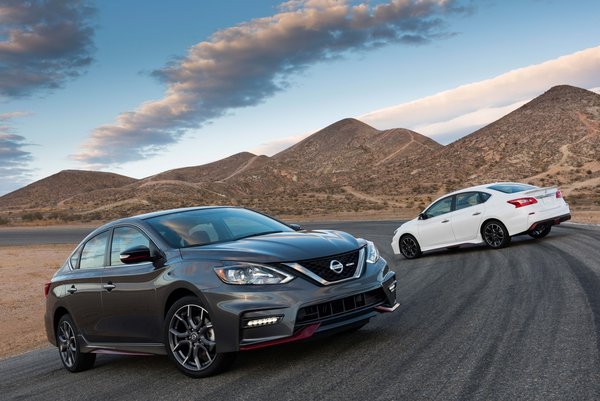 The Nissan Sentra range is expanding rapidly. Earlier this year, the Japanese manufacturer gave us the Nissan Sentra SR Turbo, and at the Los Angeles Auto Show we got the 2017 Nissan Sentra NISMO, the fourth model with the NISMO emblem to join the ranks of Nissan after the GT-R, the 370Z and the Nissan Juke.
A more aggressive style for the 2017 Nissan Sentra NISMO
The 2017 Nissan Sentra NISMO, like the other Nissan models in the Nissan range, is immediately recognizable thanks to its aerodynamic package, its larger exhaust and 18-inch wheels wrapped with Michelin Pilot Sport tires. Red accents are found all over the body of the 2017 Nissan Sentra NISMO, as is the case with all other NISMO models.
Inside, one notices the many emblems NISMO, but especially the finish alcantara for the steering wheel. There are also several accents of red throughout, such as on steering wheel and gear lever, as well as on seats and doors. The seats also offer much more lateral support than in a "normal" Nissan Sentra.
A more powerful engine and a new suspension for the Nissan Sentra NISMO
Mechanically, the 2017 Nissan Sentra NISMO is powered by a 1.6-liter turbocharged four-cylinder engine developing 188 horsepower and 177 pound-feet of torque. This engine will send its power to the front wheels via a six-speed manual transmission, or a continuously variable automatic transmission. The engine of the new NISMO Sentra is particularly advanced with its variable valve timing, a variable pressure oil pump and its low compression ratio of 10.5: 1.
Under the body, a very complex suspension setup ensures a perfect connection with the road. Indeed, rear monotube shock absorbers, which are oil and gas-powered at the front, are able to adapt to road and driving conditions, thus ensuring the best possible handling.
The 2017 Nissan Sentra NISMO will be the most powerful Nissan Sentra in its lineup. In combination with the Sentra SR Turbo and the redesigned 2017 Nissan Sentra, there is something for everyone in the Nissan Sentra range. For more information, contact us today at Stadium Nissan!
Gallery