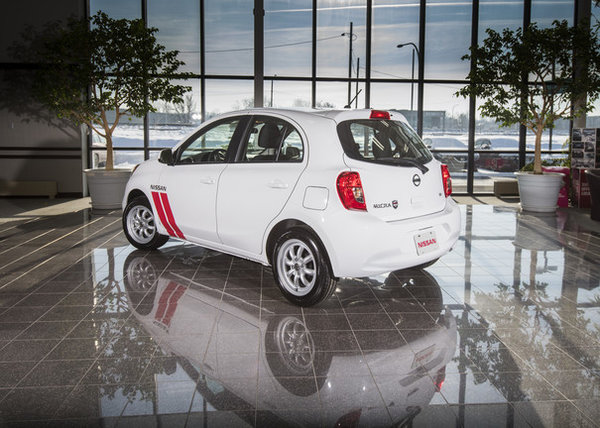 Designed specifically for Canada, the Nissan Micra is our car. Affordable (one of the most accessible in the country), the Micra is also surprising on the road and able to seduce those who love to drive.
Small But Powerful, the Nissan Micra Gets a New Limited Edition Model
In that vein, the Nissan Micra has given birth to the Micra Cup, a series of races where professional drivers push the small subcompact to the limit on some of the most challenging tracks in the country. What most people do not know is that the Micras that zip around at full speed have the same 1.6-liter 106-horsepower engine that powers the model found in showrooms across the country. Only a few modifications have been made to the interior and the suspension.
And now, Nissan has unveiled the all-new 2016 Nissan Micra Micra Cup Limited Edition. With unique 15-inch wheels and a numbered plaque signed by the champion of the first year of the Micra Cup Olivier Bédard, the Micra Cup Limited Edition will be produced in very limited quantity, 250 units to be exact.
"As the new president of Nissan Canada I am getting to know the country and specifically the people, so I appreciate the fact that our Micra-related news at the Montreal Auto Show this year revolves around one important group – the fans. Canada's most affordable subcompact, the Nissan Micra, and Canada's most affordable race series, the Nissan Micra Cup, are developing a passionate following. I am delighted to offer enthusiasts of both the Nissan Micra and the Nissan Micra Cup a new model that brings a sense of spec series racing to public roads through the Micra Cup Limited Edition," included Mr. Joni Paiva.
For more information, contact us at Stadium Nissan today!