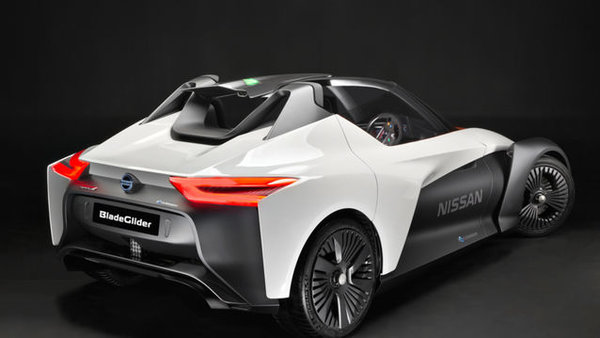 Unveiled for the first time at the Tokyo Motor Show in 2013, the Nissan Bladeglider made an appearance as a working prototype at the 2016 Olympic Games in Rio de Janeiro.
According to the Japanese automaker, the Nissan Bladeglider represents a combination of performance, concern for the environment and Intelligent Mobility.
Nissan Bladeglider: The Emphasis Is on Efficiency and Intelligent Transport
The Bladeglider name comes from the goal of Nissan's designers to develop a vehicle that, well, glides. With its overall quietness accentuated by its electric motor and aerodynamic shape, the Bladeglider should indeed give its driver the feeling that he or she is flying
The Nissan Bladeglider is powered by two electric motors capable of reaching 190 km/h and 100 km/h in just five seconds. Taking advantage of a torque vectoring system, the Bladeglider promises to deliver a truly dynamic driving experience, while electric motors integrated into the rear wheels can modulate the torque sent to either of the wheels, ensuring that there is still plenty of traction.
Nissan is certainly one of the leaders in the field of electric vehicles, and not just in concept form. Indeed, the Nissan Leaf is currently one of the most popular EVs on the market. Concepts like the Bladeglider demonstrate that Nissan has not finished impressing us with state-of-the-art ecological vehicles.
To learn more about the 2016 Nissan Leaf as well as the Bladeglider, contact us today at Stadium Nissan in Calgary!