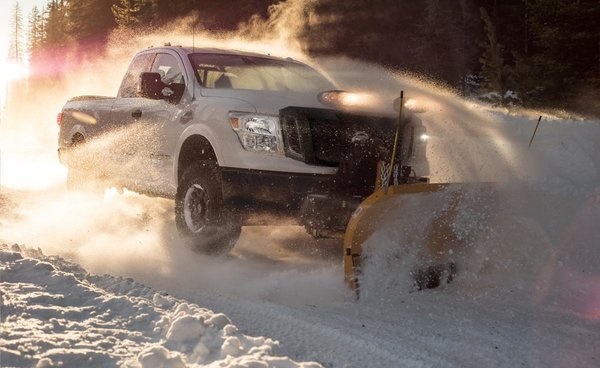 Worried about the snow that is coming? You shouldn't be. Not if you have a new 2018 Nissan Titan XD at least. That's because Nissan has just announced that it will offer a snow plow prep package on its full-size pickup which can be used for a range of commercial and personal applications. Indeed the now accessory will work with most snow plows from manufacturers Boss, Fisher, Meyer, SnowEX and Western.
Get rid of the snow quickly with your Nissan Titan XD
The Snow Plow Prep Package replaces the stock front springs with a design capable of withstanding a higher load, and which ultimately leads to an increase of 575 pounds in front GAWR capacity. The package is available on gas V8-powered Nissan Titan XD models.
"Experts are predicting a typically snowy Canadian winter again this year, meaning there should be plenty of opportunities for individual and fleet snow plow business operators," said Steve Rhind, director of marketing at Nissan Canada Inc. "Get your new TITAN XD ready this fall… and let it snow!"
To learn more about the 2018 Nissan Titan XD or to order your Snow Plow Prep Package, contact us today at Stadium Nissan!