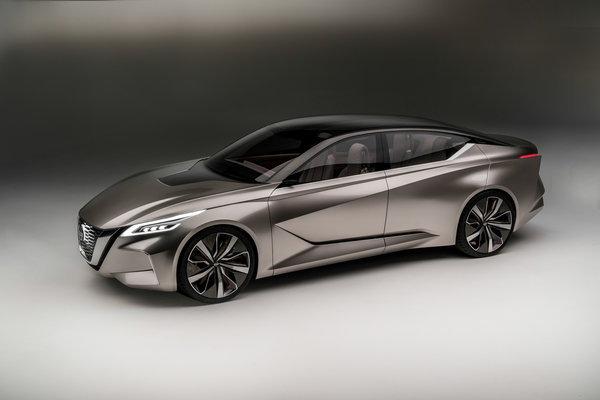 Unveiled at the North American International Auto Show earlier this month, Nissan's impressive Vmotion 2.0 Concept is set to makes its Canadian day view at this year's Toronto International Auto Show. Designed to showcase Nissan's future design direction for its sedan lineup as well as its Intelligent Mobility Technology, the Vmotion concept provides a glimpse of Nissan's future vehicle lineup.
Nissan Vmotion 2.0 Concept wins EyesOn Design Award
The Nissan Vmotion 2.0 Concept was an unexpected addition to the Detroit Auto Show, and quickly received quite a bit of praise from both media and visitors. It is therefore not surprising that the Vmotion 2.0 Concept won the prestigious 2017 EyesOn Design Award for best concept vehicle.
Technology-wise, the Vmotion 2.0 Concept features a host of advanced driving technologies including autonomous driving systems that are part of the Nissan Intelligent Mobility philosophy, a new way of thinking that aims at reaching zero emissions and zero fatalities on the road.
"Toronto auto show visitors will have the opportunity to see the new Vmotion 2.0 Concept up close, an innovative expression of the vision and values of the Nissan brand," said Joni Paiva, president, Nissan Canada Inc. "Not only is the Vmotion 2.0 Concept a reflection of where Nissan is heading from a design perspective, both inside and out, it also showcases our vision to seamlessly integrate the mobility experience into the lives of busy professionals constantly on the go."
To learn more about Nissan's Vmotion 2.0 Concept, contact us today at Stadium Nissan!
Gallery