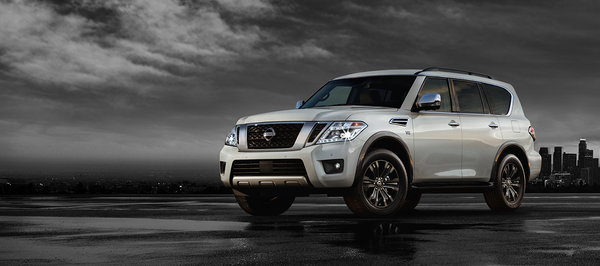 Nissan's new lineup of trucks and SUVs have taken home six awards from the famed Texas Truck Rodeo held earlier this month. The Nissan Titan lineup took home three awards including Full-size Truck of Texas, Commercial Vehicle of Texas and Best Value.
Plenty of awards for new Nissan Titan and Armada
The new Nissan Murano was named the Mid-size Crossover of Texas for the second consecutive year while the all-new 2017 Nissan Armada was named SUV of Texas and Full-size SUV of Texas. This is quite a feat for Nissan which has been revamping its entire truck and SUV lineup this year, calling 2017 the Year of the Truck.
"We're honored to have the all-new 2017 Nissan Armada recognized by the SUV experts of the Texas Auto Writers Association," said Fred Diaz, division vice president and general manager, North America Trucks and Light Commercial Vehicles, Nissan North America, Inc. "Armada provides a unique combination of luxury, power and utility, including best-in-class1 standard towing and a suite of advanced Nissan Safety Shield technologies such as Predictive Forward Collision Warning2 and Backup Collision Intervention."
The Nissan Titan was the first to be redesigned earlier this year, while the Nissan Murano was redesigned last year. Earlier this summer, the 2017 Nissan Armada was introduced, followed by the all-new 2017 Nissan Rogue a few weeks ago.
It's never easy for a Japanese automaker to take in awards when it comes to full-size SUVs and pickups, especially in Texas, a stronghold for U.S.-built trucks. That makes the awards won by Nissan at the Texas Truck Rodeo that much more impressive.
To learn more about Nissan's lineup of new trucks and SUVs, contact us today at Stadium Nissan!