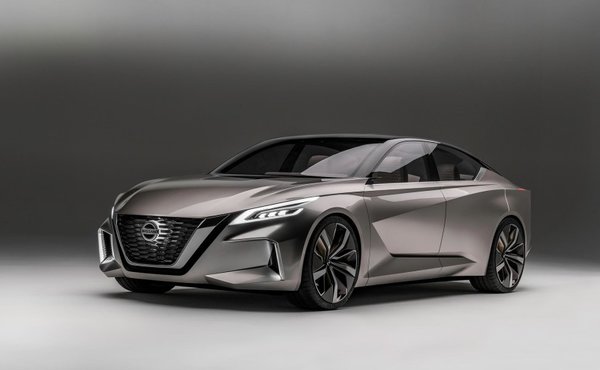 After first being unveiled at the North American International Auto Show in January, Nissan's bold Vmotion 2.0 Concept took the stage at the Canadian International Auto Show earlier this month in Toronto. Meant to showcase Nissan's future in terms of design, the VMotion concept also hints at the future of Nissan Intelligent Mobility.
Nissan VMotion 2.0 Concept: the future of driving according to Nissan
The latter is Nissan's roadmap to achieve zero emissions and zero fatalities in the future. Although it is a lofty goal, the VMotion Concept certainly demonstrates that Nissan is on the right track with its exclusive intelligent driving features including ProPILOT, an autonomous driving technology currently under development.
The Nissan VMotion 2.0 Concept was joined on stage by the Nissan Qashqai, Nissan's brand new subcompact SUV which will hit the market in a few months.
"The Nissan display at the 2017 CIAS is a culmination of our most exciting offerings, none of which are connected," says Joni Paiva, president of Nissan Canada Inc. "In one area, we're displaying our vision for future design and the latest autonomous driving technology with the Vmotion 2.0 Concept. Just a few yards away is a totally new vehicle for the Canadian market that has already won the world over with over 3-millon sales globally - the Qashqai CUV. To diversify the stand further, we've brought in legendary cinematic elements through the 'Rogue One: A Star Wars Story' display."
For more information on brand new Nissan models, contact us today at Stadium Nissan!
Gallery