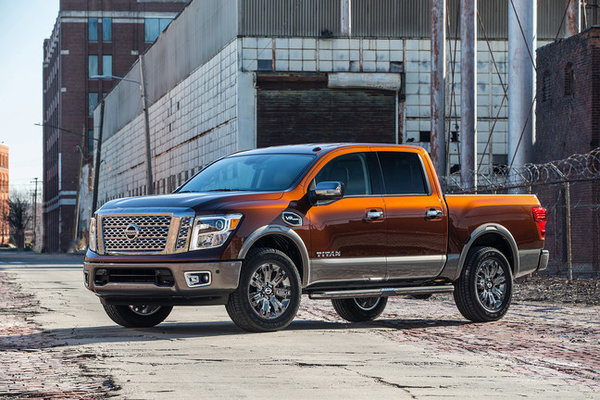 The full-size pickup segment has always been dominated by US manufacturers. Japanese manufacturers like Nissan know this, but that does not mean they are not able to build a pickup truck that will be able to meet the needs of those who need a tough work vehicle that also shines in everyday use. The new 2017 Nissan Titan is the perfect example.
Truck buyers tend to be very loyal and often they buy the same model as soon as the time comes to replace the truck in their garage. Knowing this, Nissan engineers had a simple mission: to build the best possible truck that meets a wide range of needs, and then let their product do the work to convince consumers.
We were introduced to the new Titan last year, and now we get the 2017 Nissan Titan which, although it may not have the same reputation as the Ford F-150 and Ram 1500 to name just a few examples, can certainly stand up to its competition. And in many areas, it even dominates its rivals.
A full range of engines for the 2017 Nissan Titan in Calgary
Available starting at $44,650, the 2017 Nissan Titan is offered with a 5.6-liter V8 engine developing 390 horsepower and 394 lb.-ft. of torque at only 3,400 rpm. Paired with a seven-speed automatic transmission, this engine is a combination of power and efficiency. It can tow up to 9,730 pounds while maximum payload is rated at 1,930 pounds. Better yet, the 2017 Nissan Titan comes standard with everything needed to tow or haul such loads, so the buyer does not need to turn to the options catalog to enjoy all the power offered by the Titan.
A powerful diesel engine for the 2017 Titan XD in Calgary
A V6 engine will eventually be added to the 2017 Titan catalog, but for now the only other engine option is a Cummins 5.0-liter V8 turbodiesel. It is available as an option in the 2017 Nissan Titan XD which in essence is a bridge between standard full-size pickups and heavy-duty trucks. Developing 310 horsepower and 555 lb.-ft. of torque, the 2017 Nissan Titan XD's optional diesel engine is paired with a six-speed automatic transmission and can tow up to 12,314 pounds. Available starting at $ 46,250, the Nissan Titan XD is also available with the gas V8 engine and has a payload of 2,500 pounds.
To learn more about the all-new Nissan Titan 2017, contact us today at Stadium Nissan in Calgary!
Gallery