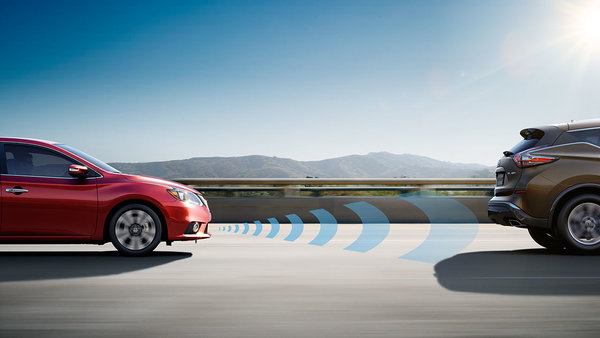 Everyone wants a safe vehicle, there is no question about that. Over the years, automakers have worked very hard to improve the overall safety of their vehicles in two distinct areas: active safety and passive safety. While active safety features are designed to prevent accidents from every happening, passive safety comprises all of the structural elements and features that come into play to protect you once an accident has happened. At Nissan, these two areas are found in what is known as the Intelligent Safety Shield.
Three components of Nissan's Intelligent Safety Shield
The Nissan Intelligent Safety Shield has three components to it, or three areas of protection if you will. The idea behind the Intelligent Safety Shield is to Monitor, Respond and Protect occupants from surrounding danger and unavoidable collisions. The Monitor aspect deals with active safety technologies.
These technologies, as stated previously, are designed to prevent accidents for occurring by warning the driver of a potential danger, and then intervening if the driver fails to do so. Technologies include Predictive Forward Collision Warning which will warn you using an audible signal and visual signal if the vehicle in front slows down or brakes suddenly.
If the driver fails to react, then Forward Emergency Braking takes over and applies the brakes immediately to prevent the accident, or at least greatly reduce its consequences. Most new Nissan vehicles also feature Blind Spot Warning which indicates to the driver the presence of another vehicle in his or her blind spot.
When backing up, Rear Cross Traffic Alert will warning you of an oncoming vehicle that you may not see. This is particularly useful when backing out of a driveway where the road is partially blocked, or backing out of a parking spot in a crowded parking lot.
The Monitor aspect of Nissan's Intelligent Safety Shield also features Intelligent Cruise Control which will automatically keep a predetermined distance with the vehicle ahead when cruise control is activated, and Driver Attention Alert which will detect if the driver is tired and display a warning to stop and rest. Other features in the Monitor side of the Nissan Intelligent Safety Shield include the AroundView Monitor and the RearView Monitor as well as parking sonars, tire pressure monitoring and object movement detection.
The next component of the Nissan Intelligent Safety Shield revolves around responding to dangers. The Respond technologies include Vehicle Dynamic Control which helps you maintain your desired path, Traction Control, ABS, Electronic Brake Force Distribution which sends extra force to the rear brakes to compensate for additional weight, and Brake Assist which adds extra braking power when a hard brake is detected.
If an accident occurs, the third area covered by the Nissan Intelligent Safety Shield, Protect, includes Nissan's Zone Body construction which ensures that an accidents forces are pushed away from the driver and his occupants, and that the body's integrity is maintained as much as possible and intrusions are held to a minimum. Combined with advanced air bags, you know that you will be safe even if an accident is unavoidable.
To learn more about Nissan's Intelligent Safety Shield, contact us today at Stadium Nissan!